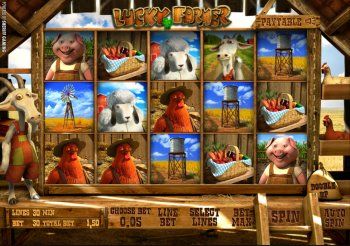 Sheriff Gaming brings you this 3D video slot Lucky Farmer. Lucky Farmer has 5 reels a offers up 30 lines of pig squealing action in a slot that is based around all things farm related. This game comes packed with things like free spins, wild symbols, scatter symbols and even a bonus game. It offers a max payout of 5000 coins!
It is hard to imagine any farmer worth his cover-all's who wouldn't enjoy all this game has to offer. The design of the game takes you on a comical journey into the world of farming from the animals to the countryside. You will be able to enjoy the company of a goat each time you play and will find other interesting characters ready to join you in the fields as you search for those big wins. There is the rooster who will do his duty by cock-a-doodle-doo'ing, a hairy but cute sheep, a water pump and a water tower, classic windmill and even a basket of fresh vegetables for you to snack on. A few extra bonus symbols are offered in the form of the happy go lucky pig!
One of the features to this game is the 3D animations that it comes with. Any time you land a winning combination the symbols will leap out off the reels to add to the joy you get when you hit the wins. Each will offer up something a little unique whether it be by their actions or the sounds they create. The betting limits for this game start as low as 0.01 per line and increase up to 0.05 per line. This makes the minimum bet set at 0.30 and the maximum bet being $5. For those who love to roll high you will be pleased to learn you can wager as much as $750 per spin!
Now the real draw is the game features. There are a few worth mentioning in Lucky Farmer. The first is the double up option which will allow you to risk any win you achieve and try to double it up. Should you decide to try this you will be off to a bonus page that will have you choose between heads or tails – pick right and you double up your win. The wild symbol is another game feature as it will appear on the three center reels and complete any possible wins.
The last is the bonus game which gets triggered when three goats hit the reels. This takes you to farmer paradise – his storage room – where you will keep selecting items off his trusty wooden shelf. Each time you do his old goat will be there to join you and give a kick to knock the item off the shelf. Each successful pick will award cash prizes, free spins or multipliers. Once you uncover the word collect the bonus game will end and any free spins won will be played out.