Halo 5 Guardians has now been announced for the Xbox One. Yesterday 343 Studios, the new developers behind the beloved series made a Twitter Status Update and then full announcement reveal for Halo 5 Guardians.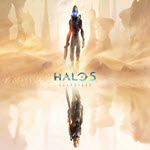 We have not seen a Halo game such as this since Halo 3 was first released back on the Xbox 360. Due to this Halo being released on the Xbox One you can except a lot of key features in the game to be upgraded. A spokesman at 343 Studios said the following, "The Xbox One has allowed for us to use an entire new engine, with this new engine comes better visuals as well as improved gameplay. The true scope of Halo has never been able to be completed on the Xbox or Xbox 360, so when we learned that the Xbox One would allow for us to open up the scope of Halo we were thrilled."
Many fans of the series believe that the new female Spartan that we see in the promo picture is Cortana. The reason for this is because in Halo 5 Cortana is dying and eventually she gives her life so that Master Chief can be saved. Fortunately for Master Chief, Cortana has inserted copies of herself on thousands of different computer systems used by the Didact's. This means that Cortana could be alive and since the new female Spartan is boasting a pure blue Spartan helmet that means its more than likely to be Cortana.