Casino Tropez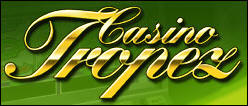 is thrill to release information regarding one of its players from South Africa who won an incredible 10.5 Million Rand in the early part of February!
The player is only identified by her first name, that being Johanna. Her bout with lady luck began on February 6th as Johanna settled in to play one of her favourite games Deseret Treasure II. Johanna was lucky enough to be having a good run and won an incredible 5.5 Million rand and then followed that with another win of 1.3 million rand!
While still on high Johanna returned to the slots on the 7th to play Artic Treasure and amazingly her luck continued with another big win in the amount of 4 Million Rand. This brought Johanna's two total up to 10.5 Million Rand which is equal to just over $1.1 Million USD!
Desert Treasure is a popular video slot under the Playtech software that includes wilds, scatters, free spins and more. It attracts both low rollers and high rollers for its high variance of big wins. Artic Treasure is another video slot that includes many of the same features and we can be sure they both will remain in Johanna's fav category for years to come!
Stop by Casino Tropez today and start playing both of these games as you too may join the long list of winners like Johanna at Casino Tropez!