Early on into this month Blue Gem Gaming, a new software developer to the online gambling market announced that they have purchased the rights to all of the Sheriff Gaming developed video slots and casino games. The homepage for Blue Gem Gaming resembles Sheriff Gaming identically, making people wonder if the original owners of Sheriff Gaming created a new software company and purchased the rights to their old software.
As of right now there aren't many details for this new software developer. We do know that each one of the Sheriff Gaming developed video slots had the developers logo located in the right bottom hand corner of the game screen. That logo has now been switched over to the Blue Gem Gaming, which confirms that Blue Gem Gaming now owns that Sheriff Gaming titles.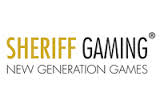 The majority of people don't know that Sheriff Gaming has a pretty rough year in 2013. Firstly the developers were being investigated by Dutch Authorities because the authorities believed that the developed were connected to money laundering rings and drug dealing rings. Even though the developers were never proven of the acquisitions being made towards them it did result in the developers getting a bad name in the industry.
Eventually near the end of 2013, Sheriff Gaming lost their gambling license after the Alderney Gambling Commission took it away from them. The Alderney Gambling Commission noted that regardless of the acquisitions made towards them the developer has had issues with payments and their software. This along with the accusations is what resulted in the developers losing their gambling license.